We are getting closer to a building design for our location.  After considering many different building envelope designs, we are moving toward either standard 2×6 stud with 4″ of continuous insulation with rain screen or CLT's
2×6 has its advantages in that any framer can build this and our mission is to demonstrate how easily it is to build building with a 90% reduction of energy demand but CLT's on the other hand are very cool,  fast, sequester so much carbon, are inherently stronger, more fire resistant and more air tight.  As our design narrows down, we will do a cost comparison between the two systems to help decide.
About CLT's.
Compared with steel or concrete, CLT, also known as mass timber, is cheaper, easier to assemble, and more fire resistant, thanks to the way wood chars. It's also more sustainable. Wood is renewable like any crop, and it's a carbon sink, sequestering the carbon dioxide it absorbed during growth even after it's been turned into lumber.  Pound-for-pound, wood is as strong as steel and extremely durable.  Taking wood buildings to the next level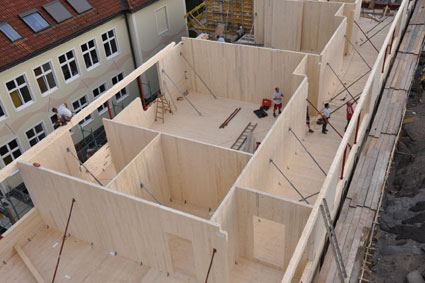 Our plan is to build approximately 1,000 square feet of office showroom.  We will also be designing to meet Passive Certification  and will take into account BioPhilic design.  Our goal is to have a building that would help demonstrate one type of sustainable construction that can be built at market rate. One that will also provide a reduction of energy requirements of up to 90% as well as producing better indoor air quality and human comfort.